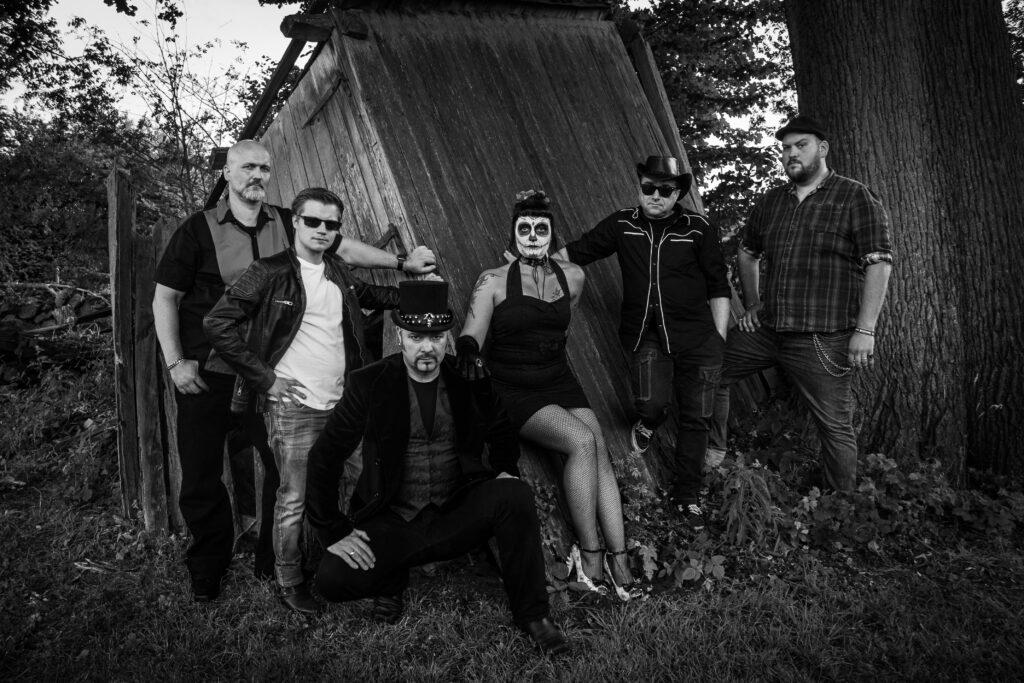 Name: Immersed In Black
Genre: Monsterbilly
Origin: Germany
Label: Dark Wings
Distribution: Plastic Head / Ingrooves
Release: EP "Bad" / 06/18/2021.
Immersed In Black is a Hamburg based band that formed in 2019. However, the foundation was laid back in 2011, when the band's founders Frank and Daniela met in a medieval/folk rock band.
Frank, the lead singer of the band at that time, and Daniela, backround singer and keyboard player, left the band in 2014 and founded their own project. Songs were created, which now came from a completely different genre: gothic rock and darkwave. The songs were edited in the recording studio, videos were produced and released on their own and the project was named Immersed In Black.
A few more years passed until guitarist Victor Palluch joined the project in 2018. He played rather harder riffs from hard rock on his electric guitar, but also liked to get out the acoustic guitar from time to time. So the next plan was to present cover songs in pubs and bars as a threesome. However, the idea of founding a new band with their own songs finally matured.
Not only passion, experience and ambition, should bring the future musicians, also the interpersonal should be right in every respect. The joy and fun of making music, as well as openness to new ideas and influences of all participants were also at the top of the list. A challenge that was to find its fulfillment in 2019 initially through Jörg Bengsen, Tim Ostermann and Carsten Lichnau, and then complemented in 2021 by the new bassist Reto Bogdan.
From the different styles of music that each musician brought from their previous and long music career, a unique style or new genre emerged….
Monsterbilly, as it is called today, does not fit into any common category. Borrowed from Gothabilly, darkwave influences also mix in again and again when the synthesizers come into play or a postpunk of the 80s. So Immersed In Black experiment with different genres and even have a tango in their repertoire. But the unmistakable style becomes clear on the one hand through the lyrics of the songs: It is a cocktail of eerie stories, dark legends and much more, with a dash of humor.
In addition, there are always swinging rockabilly beats that run through the program and powerful riffs that immediately get into your blood and make every bone dance.
Whoever has seen Immersed In Black live on stage once, will want to hear more, because they are always good for a surprise when it comes to their songs.
On 18.06.21 the EP "Bad" was released, the album will follow soon.
The band had the honor to compose, mix and master a promotional song for the international "Ready Set Drone Community". The video for it can be found here.
Current lineup:
Frank "The Dude of Death" – vocals
Dani "LaCatrina" – vocals, keyboard
Victor "Vic Mc Fly" – guitar
Tim "Tiny Tim" – Guitar, Backgroundvoice
Jörg "The Nordic " – drums, backing vocals
Reto – electric bass / double bass