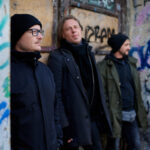 Name: Mono Dual 721
Genre: EBM/Electro/SynthPop
Origin: Austria
Label: Dark Wings
Distribution: PlasticHead / Ingrooves
Releases: Album "Zweite Staffel" / 03.2021, Album "Erste Schritte" / 2016.
The frame is structure
on which the screen is stretched
the projection makes the resonance possible
with little much named.
It would like to be spoken also in this connection of singing, guitar and bass on the sound framework of a synthesizer/computer.
It can give an impulse to it, to adapt and also the invitation to different angles of the perspective to the being, to take part.
The songs (Songs =?) of Mono Dual 721 -> are danceable
The performances supported by visualizations -> more than visible
The granules of the different themes often -> strange
But the lasting impression -> wonderful
MONO DUAL 721 has combined several sides of the musical worlds and often plays with ambivalences. This often becomes audible/visible through untypical combinations of the used elements.
MONO DUAL 721 LIVE captivates among other things also through specially created conceptual visuals, which were created in collaboration with other artists. Here the intention is to create a dense and unusual atmosphere
Nomen is Omen
MONO DUAL 721 Ambivalence
in audible form.
Line Up:
Rudolf Salhofer – vocals
Robert Fichtinger – bass
Christoph Salhofer – guitar