News from Mono Dual 721
Mono Dual 721 have done it again – a new video has seen the light of day. O-Ton MD721:
"He's here. The outsider. He has left his shores and is now looking for his place in this world in this visualized form.
A work of many hours with our very limited means. So run Außi run and watch out for the mirrors!
Many thanks again to Reichi (reichi.com) and Lothar (lotharprokop.com), who helped with this project. Please use their electronic links (left) to learn more about them.
See and hear you.
MD721″
New Familymembers
We are proud to announce that Dark Wings Records is getting new members into the label family.
We will be more international and introduce you:
Mr. Tuomas Vuorio als A&R Division Finnland und Nordischer Raum
as well as
Mr. Jamie Hembree als A&R Abteilung USA und Kanada
They will represent the label in their areas.
A warm welcome to the family.
Roxon A.D. goes USA
Things continue to go up for Roxon A.D.. "Rest In Pain" started successfully in the Spotify Plays and the band will not only accompany Lordi on their cancelled tour in 2022, but also complete a small USA tour in May. We are very hyped what the year still has in store for the band.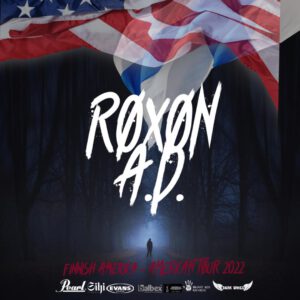 The PreSale for Immersed In Black has started
On 18.06.21 the new EP "Bad" by Immersed in Black will be released. The
PreSale
has started.
Immersed In Black sign with Dark Wings. Release of the EP on 18.06.21
We are looking forward to the collaboration with Immersed In Black and the first release of the band on our label. "Bad" will be released on 06/18/2021.
PreSale for Mono Dual 721 started
The presale for the new album "Zweite Staffel" by Mono Dual 721 is now open.
2021 starts with Mono Dual 721
We are looking forward to the upcoming collaboration with Mono Dual 721 from Austria and are excited to see what the new year will bring. It can only get better 😉
Flesh Roxon meets Dark Wings
We are happy to announce the Finnish rockers of Flesh Roxon on Blood Rite Records & Dark Wings Rec. to welcome
There can be no better debut for the band than to announce their first single "Let's Fucking Die" for Oct. 30, 2020. This will be just the first taste of their upcoming album, which will be released in 2021. There will also be a single release and of course a video to bridge the wait.
Streetdate for the PerleZero album
On 8/14/20 the debut album of the fantastic PerleZero comes out and is available here:
Click
New home for PerleZero
There are characters like the queen of LoLa, Fru Glitza, the flying talking carpet Franz – who prefers to be called Horst and likes to scratch his alcohol-soaked butt heaven -, the human abyss "Human Bomber" and of course Lamirah, healer from LoLa, who carries a shadow in the form of a twin soul and acts undercover on the shattered earth together with Schniepel, the vomit-green lead horn, as Eleonore Muffpopp.
We are very happy to be able to give all these wonderful creatures a home with us and look forward to working with PerleZero. Streetdate for PerleZero's debut album is 8/14/2020.
DRYLAND are back home
We are happy to welcome the legendary gothic band DRYLAND back to Dark Wings. After releasing their latest album "Deal with the Devil" on Nov. 16, 2018 on Blood Rite Rec. released, they have continuously worked on new material. On Dec. 16, 2019, they will release an EP called "Dark Rock Show." The 5 songs will come along as usual gloomy and let the black souls of the fans jubilate. It will also appeal to the metal faction with powerful drums and guitar walls. As a little specialty, the song "Ordinary Lovesong" was remastered in the original English version and added to the German version. Especially this version gives depth and insights into the emotional world of singer Alex. On 20.12.2019 there is still a very special Christmas surprise…. Stay tuned.
https://youtu.be/zrLxzNHjroY
MODEL KAOS sign with Dark Wings
MODEL KAOS sign to Dark Wings in December 2019 and release their EP "Liars" on 12/20/19. They see their style as a form of dark electro gothic rock that can't deny its origins in the wave, goth and EBM of the 80s as well as its borrowings from the future pop of the present. We are looking forward to the collaboration and are excited about the new album, which will be released in 2020.